Wilmington, North Carolina provides ideal locations for riverside living and beachside views. But all of these beautiful coastal vistas bring with them a climate that can have a unique effect on flooring choices. Selecting the best options for flooring in Wilmington, NC can be easy as a day at the beach with a few tips from the Crystal Carpet and Flooring Company team of experts in Wilmington, NC.
Understanding Humidity
Humidity is more than just a number in the forecast. It refers to the amount of water vapor in the air around us, with high humidity representing more water in the air around us, and lower numbers representing less. Certain flooring options are made from materials that behave differently in the presence of high humidity, which can make choosing flooring in Wilmington, NC seem more difficult. But approaching your choice armed with the facts can make all the difference. Here are a few of the most popular options:
Hardwood Floors
If a beach house with hardwood floors is your dream, worry not. While wood has a reputation of swelling and shrinking during big humidity shifts, engineered hardwood does not. Due to being made from several layers bound together, these planks do not experience the swelling and shifting of typical hardwood. While the cost can be slightly higher than other options, this is the smartest investment when it comes to installing hardwood in your coastal home.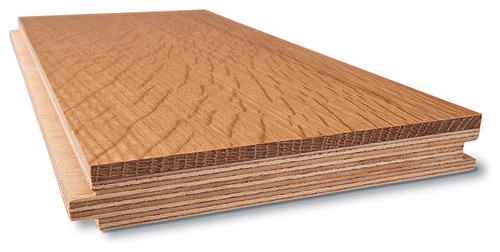 Porcelain Tile
Most tile options are naturally moisture-resistant, making them an ideal choice for coastal, high humidity living. Porcelain tile is a beautiful, highly durable material that can also help your home feel cooler in the summer, making it an ideal choice for flooring in Wilmington, NC. Porcelain is fired at incredibly high temperatures, making it as strong as granite. Coastal homeowners also love porcelain tile because it is so easy to care for, requiring simply sweeping or warm water to keep clean. While porcelain is an investment, it is one that can be made to look like other flooring types, providing an aesthetic upgrade.
Indoor/Outdoor Carpet
While in the past, many carpets made for outdoor use weren't the kind you'd like to have inside your home, that has changed! Materials such as Olefin are soft, strong, and moisture-resistant, and are a great choice for high-humidity rooms. Be sure that if choosing carpet for a humid climate, you choose synthetic and not natural fibers, as mold and mildew can grow on natural fibers.
Like seashells on the beach, no two coastal homes are the same. Visit the Crystal Carpet & Flooring Company Showroom to learn more about why we're the number one choice for locals seeking quality flooring in Wilmington, NC.