Topsail Beach (or "Tops'l" to the natives) is a small, family-friendly community located on the southern edge of Topsail Island. Nestled between laid-back Surf City and bustling Wrightsville Beach, Topsail provides a nature lover's getaway. Thanks to the town's devotion to protecting wildlife and their natural habitat, the shores are underdeveloped compared to nearby southeastern North Carolina beaches. Host to thousands of visitors during tourist season and just around 500 year-round residents, Topsail feels like home, even if it's your home-away-from-home.
There are several factors to consider in order to decide on the right flooring in Topsail Beach, especially if you're considering selling your home someday. Whether you're new to Topsail or interested in updating your long-time rental, there are important considerations to make for beach house flooring. Here, we help you get started with our recommendations for a few of the most common residences in Topsail Beach.
Your Topsail Beach house rental
The key for a successful beach house rental is flooring that makes a great first impression and handles the hustle and bustle of your many guests. For flooring that's attractive, easy to clean, stain-resistant, and warp-free, we recommend luxury vinyl plank flooring (or as we call it, LVP). LVP flooring is engineered with advanced photo-technology to imitate gorgeous hardwood flooring, marble, and stone, but it's built much tougher so it can take Topsail Beach's unpredictable weather year in and year out.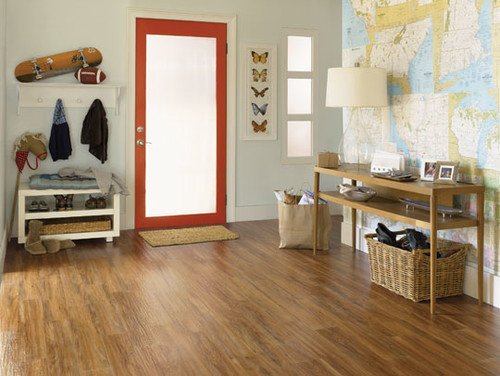 Your small business in Topsail
Like LVP, luxury vinyl tile flooring (LVT) is built to absorb heavy foot traffic without bending or breaking in the heat and humidity. For this reason, it's an ideal choice for your small business's Topsail Island flooring, whether you're opening a seafood restaurant, shaved ice shack, or cozy coastal antique shop. Available in hundreds of colors, styles, and textures, LVT masterfully imitates classic flooring options, without the shortened lifespan of hardwoods or cracks that come with natural stone.
Your Topsail Beach fixer-upper
If you're looking increase the resale value of your space, we recommend installing consistent flooring throughout the home with a timeless style. Although you can't go wrong with traditional hardwoods, for Topsail Island flooring, consider engineered wood flooring. Engineered wood flooring is made with hardwoods, but it's more durable and long-lasting — a great solution for a coastal home. It's also more affordable, which means you get more bang for your buck when it's time to flip the house.
Your long-term home in Topsail Beach
Settle into your permanent space with a combination of the Topsail Beach flooring you've always dreamed of having. Think engineered hardwoods with beautiful area rugs, and luxurious marble or natural stone tile bathroom floors.
Your flooring in Topsail Beach
Still curious about what flooring would best fit your unique needs? Swing by our showroom in Wilmington, NC or contact us to schedule a free on-site consultation. At Crystal Carpet & Flooring Company, we'll help you find the perfect flooring for your space in Topsail Beach.